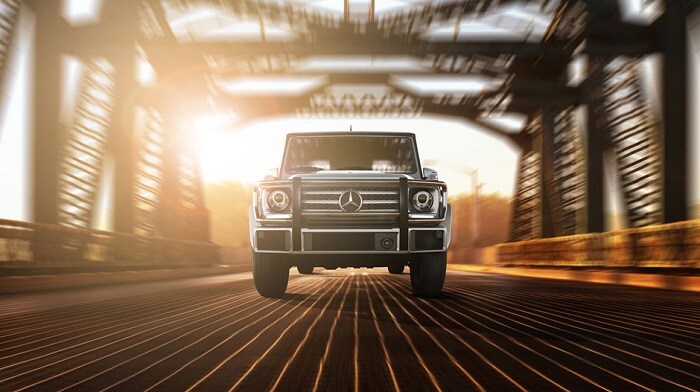 When most drivers think of Mercedes-Benz vehicles, what comes to mind is an urban, sleek, and stylish luxury car. While this is certainly true of a large amount of cars that you'll find on the lot of our Mercedes-Benz dealership in Maryland, it's easy to forget that Mercedes-Benz is also an automaker that manufactures world-class off-road vehicles. One of the most famous of these is the Mercedes-Benz G-Class, and Mercedes-Benz has just unveiled the upcoming 2019 model of this exciting group of tough off-road SUVs.
One of the biggest changes of the new 2019 Mercedes-Benz G-Class when compared to the 2018 Mercedes-Benz G-Class is the re-engineered powertrain. The four-door, five-seat SUV will be packed with a 4.0-liter V8 biturbo engine that produces 416 horsepower and a maximum torque of 450 lb-ft. The changes to the powertrain will allow for increased off-road abilities. For example, the independent front suspension with a double-wishbone front axle gives the vehicle more rigidity and maximum ground clearance, and three 100 percent differential locks enhance the agility and performance of the rugged SUV. Further enhancing off-road capabilities on the 2019 Mercedes-Benz G-Class will be the DYNAMIC SELECT driving programs, including the new G-Mode.
Inside the cabin, you can expect the same level of luxury that you've become accustomed to with Mercedes-Benz vehicles. Coming standard is a 12.3-inch high-resolution display with a single-bonded glass panel. This is connected to a Burmeister Surround Sound System and a variety of advanced driver assistance features. Comfort is enhanced by ambient lighting with 64 colors, leather seats with memory and seat heating, and a steering wheel with touch-sensitive controls.
Learn more about the upcoming 2019 Mercedes-Benz G-Class right here at our dealership.