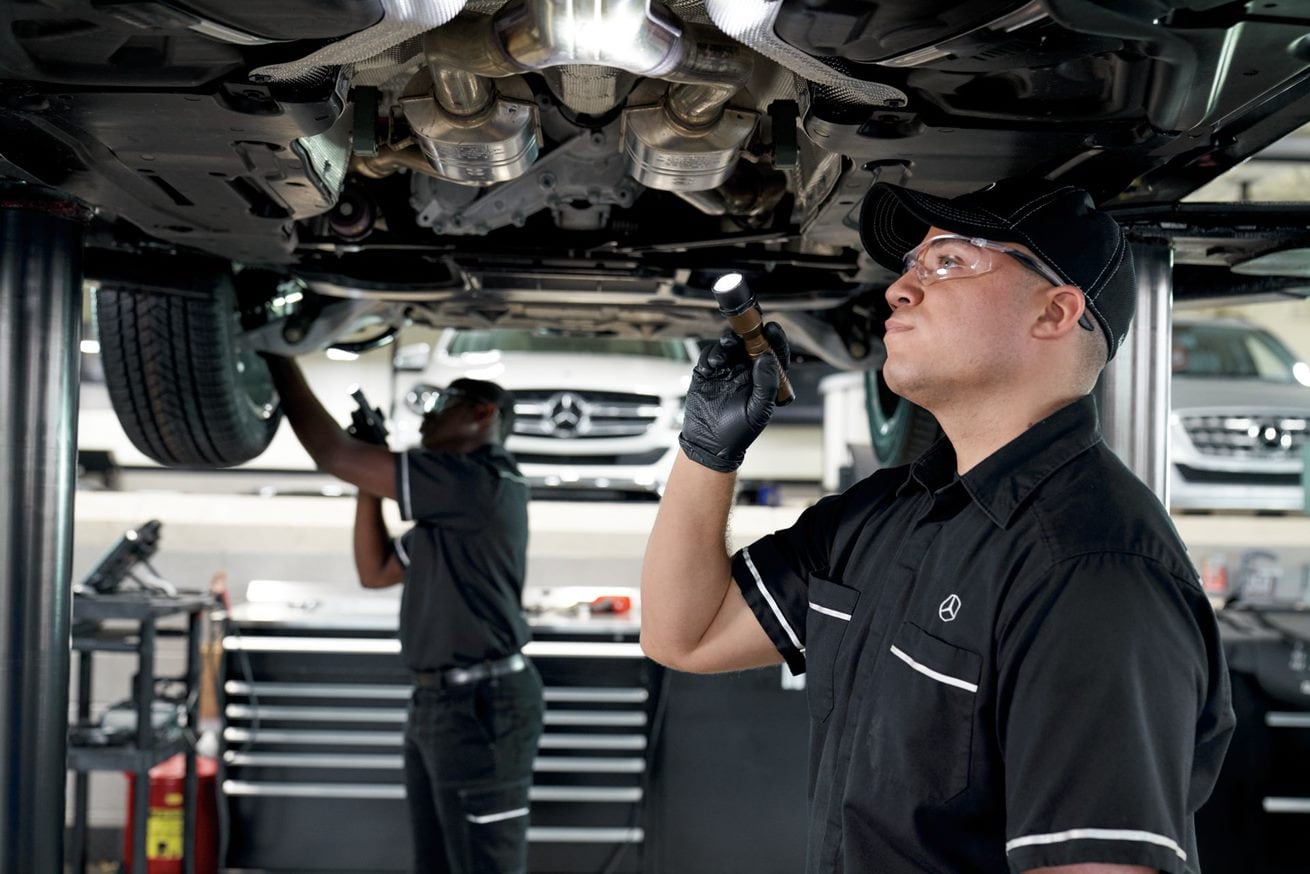 No one likes to think about the possibility of a collision in their Mercedes-Benz, but weather, road conditions, and other drivers can be unpredictable. When the unexpected happens, it's good to know that you have a reliable source for auto repair and can feel confident about your vehicle being fully restored to its former glory. Explore our frequently asked questions about obtaining Mercedes-Benz auto repair.
What's the difference between a service center and a body shop?
Our comprehensive Mercedes-Benz service center is here to tend to all your routine maintenance and minor repair needs. For major bodywork, however, we always recommend having your vehicle brought to one of our trusted body shop partners. These specialty shops have the proper tools, equipment, and trained repair technicians to handle vehicle body damage and extensive auto repairs.
Why do I need a recommendation from Mercedes-Benz of Annapolis?
Your Mercedes-Benz is a special car. So, don't you prefer the idea of having your Mercedes-Benz repairs completed by a factory-certified body shop? This isn't to say that other body shops can't also do a great job, but working with a body shop referred to you by Mercedes-Benz of Annapolis adds extra peace of mind.
Where can I find auto repair shops in Baltimore?
Around the Annapolis and greater Baltimore area, Mercedes-Benz of Annapolis and the MileOne Autogroup recommend the following body shops:
Heritage Body Shop Baltimore
Heritage Body Shop Catonsville
Heritage Body Shop Owings Mills
Heritage Body Shop Parkville
MileOne Body Shop Express
You can always visit the Mercedes-Benz of Annapolis website to learn more. Just click on our Service tab, and you'll see an option for Body Shop.
What if I have more questions about auto repairs?
Don't hesitate to contact the service and parts department right here at Mercedes-Benz of Annapolis. Our technicians will be happy to answer any questions and refer you to a trusted area body shop if the repair is beyond our scope.