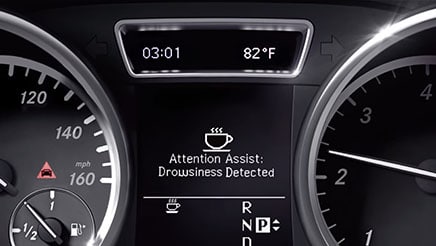 When talking about Mercedes-Benz vehicles, the things that tend to be mentioned are their powerful engines, fun to drive nature, and abundant interior and exterior luxury. Safety is often an aspect that flies under the radar, but when it comes to safety, Mercedes-Benz is one of the industry leaders, and here at our Mercedes-Benz dealership, we are thrilled to showcase Mercedes-Benz vehicles that are equipped with these three essential safety features.
PRESAFE®: The exclusive Mercedes-Benz PRESAFE® system can sense that a collision might be imminent, and help prepare for it in the moments beforehand. It uses a network of sensors to detect certain conditions that an accident is about to occur, such as extreme skidding. After this, it tightens the seat belts, adjusts the front head restraints and passenger seat, and can close the windows and sunroof.
Active Distance Assist DISTRONIC®: Available in vehicles like the 2019 Mercedes-Benz C Class, Active Distance Assist DISTRONIC® is a system used to maintain proper space between your vehicle and the vehicle in front of you. When the system is enabled, your vehicle will automatically keep a selectable set of car lengths between itself and the car in front of it. As traffic stops or slows down, your car will do the same.
ATTENTION ASSIST®: Even when in an exciting vehicle like a Mercedes-Benz, a long journey can cause driver fatigue. ATTENTION ASSIST® is a safety feature that takes note of over 70 parameters in the first minutes of a drive to get to know your unique driving style. As your trip continues, it detects certain signs that suggest the onset of drowsiness. If it detects those, it will sound an alert.
Head over to Mercedes-Benz of Annapolis to get behind the wheel of a vehicle equipped with these safety features.