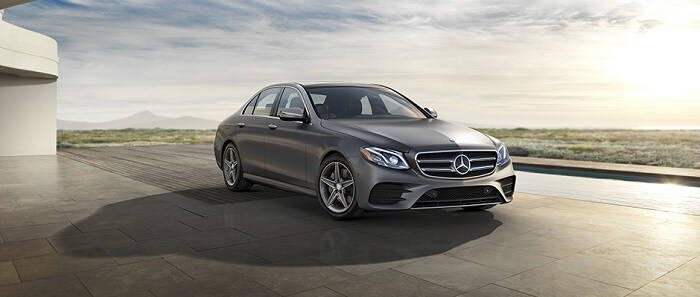 When you talk about advanced technologies in Mercedes-Benz automobiles, most people think of entertainment-packed infotainment systems or powerful and efficient powertrains. However, safety features in Mercedes-Benz sedans, coupes, and SUVs have been greatly aided by technological advances, and new safety technologies in 2017 Mercedes-Benz cars make drivers safer than ever before. Though all cars in our new Mercedes-Benz are inventory are safe, we're going to highlight the advanced features in the 2017 Mercedes-Benz E-Class E 300 and the 2017 Mercedes-Benz S-Class S 550.
The 2017 Mercedes-Benz E-Class E 300 is a part of the E-Class, which is a series of some of the most technologically advanced luxury sedans on the road today. The vehicle comes standard with the family-friendly PRESAFE® system, which cinches down seat belts, adjusts the front passenger seat, and closes windows when a collision is imminent. Meanwhile, the mbrace® telematics system offers smartphone integration and web-based apps that include remote controls, driver monitoring, and emergency services. New for 2017 is a communications system that networks with nearby Mercedes-Benz vehicles to alert drivers of potential hazards. Finally, a PRESAFE® Sound system is included and reduces hearing damage by emitting a specific noise before a collision that triggers a muscle in the inner ear to reduce hearing damage.
The 2017 Mercedes-Benz S-Class S 550 is another safe luxury sedan. One optional package is the Driver Assistance package, which includes active blind-spot monitoring, pedestrian recognition, a rear impact preparedness and detection system, and an adaptive cruise control system that will effectively drive for you on a gridlocked freeway. Meanwhile, the Executive Rear Seat packages add a special seat-mounted airbag in the right rear seat that prevent its occupants from sliding under their seat belt.
Check out these vehicles and more right here at our Mercedes-Benz dealership near Odenton, MD.