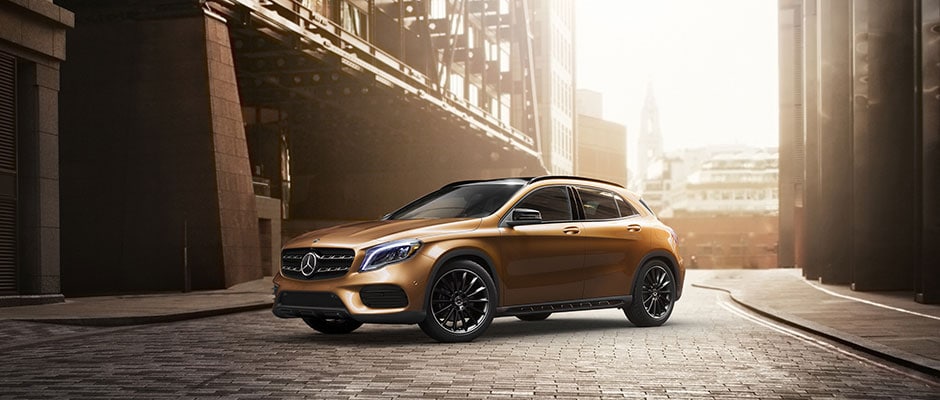 Looking to upgrade your family vehicle this holiday season? Well, if elegance, beauty, and the finest craftsmanship are important to you, your local Annapolis Mercedes-Benz dealership has exactly what you're looking for in a brand new Mercedes-Benz GLA 250.
The 2018 Mercedes-Benz GLA 250 is what we'd like to call a hot buy for 401k-contributing adults: it's part crossover and part performance hatchback, but all luxury. Underneath its ruggedly styled body with smart edges and aggressive curves it's basically a Mercedes-Benz CLA 250 sedan. Although the 2018 model does have added height and a squat stance, it has a sure-footed feel with a firm suspension that ensures it's nothing but smooth sailing on the highway.
A 2.0-liter inline-four engine that gets 208 horsepower is paired to a seven-speed automatic transmission with front-wheel drive, but all-wheel drive is optional. Android Auto®, Apple CarPlay®, and Wi-Fi are also optional in this gorgeous crossover. Ranked number two in luxury subcompact SUVs by U.S. News, the 2018 Mercedes-Benz GLA 250 is a sure bet for anyone looking to make an upgrade, with its sporty handling, impressive infotainment system and features, and a thrilling AMG® model, this is an everyday driver comfortable for the whole family.
So hurry in and see us before the holidays so you can travel in style to your family this Christmas. You will find our friendly staff ready to help you conveniently located at 324 Sixth St., right here in Annapolis, MD. We hope to see you in our showroom soon and happy holidays from Mercedes-Benz of Annapolis!